Updating your email address
If you change the email you want to use with for your account login, you can easily update this using the my details page.
Log in to mykindo and select my details from the navigation at the top of the page, or from the myKindo logo drop-down menu.


Overwrite the Account Holder details email address.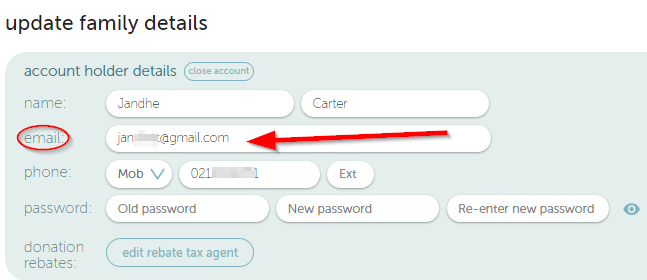 Click Save & Continue to save your changes.


Please note that if you change your email address, this will become your new login address and contact address for any receipts, password resets and other notices relating to the service.
Related Articles

Switching schools & updating details

If you have previously used myKindo or ezlunch anywhere, you can continue to use the same account for the new school or organisation by updating the my details page. You DO NOT need to create a new account. (If your account has been closed, or ...

How do I change my password?

Passwords can be changed in two ways. If you are already logged in, and you know your password, update it on the my details page. To get to this page, click on my details in the page navigation at the top of the screen, or on the expanded myKindo ...

Making a withdrawal from your account

You can make a withdrawal of funds from your myKindo account into your personal bank account. You will need to allow two working days for the process and security checks to be completed, before the funds will appear in your bank account. A $1.00 ...

Adding a new student to your account

Students can be added to your account at any time. If you are at a school where Kindo is integrated with their Student Management System, as soon as the student is enrolled they will automatically be added to your myKindo account and their details ...

I've lost my password

On the login page select the Forgotten Password link. You will find the link as shown here. When prompted enter the email you use to log into myKindo, then select reset password. We will email you a link, select this to open a page where you can ...