My child has changed class
When your child changes class you must update their delivery details to ensure deliveries go to their new class. At the start of each year you will be prompted to save a new room number for each member on your account.
If your school has a link set up between Kindo and school records, your students' location will be updated automatically. You do not need to do anything, and will not be able to change the class.
Click on the member name in the Service Pane.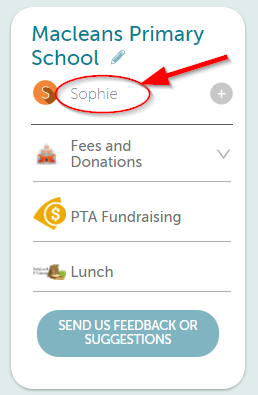 On a phone, click the
to open the Service Pane first, then click the member name.
If the School or other organisation has entered a list of valid locations, you will be given a choice of these. Scroll to the relevant choice and click to select the new delivery location. Click DONE.


If no list has been added, simply type in the location.
NOTE: Delivery details are saved with purchases. You can NOT change delivery details for an order after it has been placed. Please cancel the order and place it again, after you have updated delivery details.

Related Articles

I have another child starting school

If you have another child attending a school that offers mykindo or ezlunch you can easily add them to your account. If you are at a school where Kindo is integrated with their Student Management system, as soon as the student in enrolled they will ...

Adding a new student to your account

Students can be added to your account at any time. If you are at a school where Kindo is integrated with their Student Management System, as soon as the student is enrolled they will automatically be added to your myKindo account and their details ...

Can I change my child's lunch order?

You can change your order at any time up until 9:00am on the day of delivery (or the usual cutoff time for your ezlunch service). After cutoff an order can not be changed as processing of the order will have begun for delivery that day. To change ...

What is the difference between the Account Holder and a Member?

The Account Holder is responsible for topping up the account, placing orders and keeping member details up to date. The account holder will also get any electronic receipts for purchases to their email address. This is typically a parent or ...

Order from multiple services on different dates

When you first log in to your myKindo account, you'll be presented with a Service Selector. (If you have members in more than one Kindo organisation, you may get to select the school or organisation first). The service selector looks something like ...