Can I close myKindo account?
Yes, but first check if your students new school also uses Kindo or ezlunch. If they do, you can use your myKindo account at your new school.

When can I close my account?
1. Login to your myKindo account and select the my details option.


2. Next to the 'account holder details', there is a close account button you can select.


3. When you select close account, the following message will appear:

Select OK to begin the process of closing your account.
4. An email will be sent to you, and you can click on the link contained within the email.


5. The link will take you to our secure page where you can select to donate the credit to charity and/or return any credit in your account to the school, or return the credit balance to your own bank account.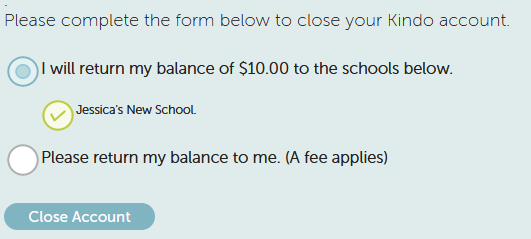 6. If you select return my balance to me, you can then enter in your bank account number you wish to have the funds deposited into.

NOTE: This automated process will only be available for "withdrawable balances", ie. withdrawal of refunded amounts. To withdraw amounts that are not "withdrawable balances", you will need to undertake a Customer Due Diligence process to comply with Kindo obligations under Anti-Money Laundering & Countering Financing of Terrorism Act 2009.
7. Once you have made your selection, select Close Account.
8. A confirmation message will appear on your screen, confirming your account closure.
NOTE: Funds may take a day or so before they appear in your bank account.

NOTE: If you have chosen to donate the funds to charity or your school, you will receive an emailed electronic receipt for your donation. Or if you have selected our tax rebate partner Supergenerous, the donation receipt will get sent directly to them.

If you need any assistance, then raise a ticket or email hello@mykindo.co.nz. You can also call on freephone: 0508 454 636 (0508 4 KINDO).